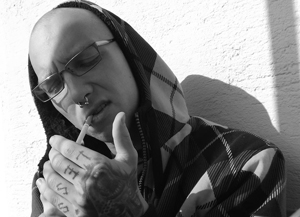 Download Image 1024×739 (right click, safe as)
SchmuRakuliX was born in Ebersberg 1991. Already in his early youth he was influenced by music, beginning with rock and metal. Soon he discovered his penchant for House Music, electro music and Minimal Techno. In 2006 his interests expanded to include reggae and dancehall, then shortly afterwards to "Drum and Bass" and Dubstep to find favor. this was a chance at a party at a friend on stage.
He should then replace his friend briefly and spontaneously: "Here are the records, here is the console, have fun and thank you" – Thus began his career as a DJ. Since then he played occasionally at the youth center and enthusiastic the Audience. Finally he came in 2010 to Psytrance ॐ, since than is his greatest passion. Since December 2013 he is member at ELECTROWiCHTEL.
SchmuRakuliX – Hidden Track (Promo Mix)
Genre: Progressive House
Format: MP3, 320kbps
Time: 33:00 min
Download (Right Click, then save as)